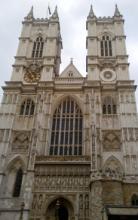 At an emotional worship service, considered one of the largest gatherings of Christians and Jews, some 1,600 British men and women filed into Westminster Abbey Sunday to mark the 75th anniversary of Kristallnacht.
Also known as the Night of Broken Glass, Kristallnacht was a series of coordinated attacks carried out by Nazi paramilitaries and civilians against Jews throughout Hitler's Germany and parts of Austria between Nov. 9 and 10, 1938.
More than 90 German Jews were killed and 30,000 more sent to concentration camps.
During the hourlong service, a candelabra from the Belsize Square Synagogue in central London was processed through the abbey where England's kings and queens are buried.