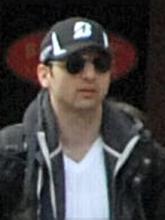 Soon after the Boston Marathon bombings, local Christian leaders stepped swiftly into the public eye, convening vigils and urging peaceful healing in the wake of senseless violence.
But their public voices have fallen mostly silent as noisy resistance grows to the prospect that suspected bomber Tamerlan Tsarnaev could be buried in local soil.
Cemeteries and even some mosques have refused to take his body. His city, Cambridge, has urged family members to bury him elsewhere. Republican U.S. Senate candidate Gabriel Gomez and local talk radio host Dan Rae want him dumped in the ocean, like Osama bin Laden. Clergy have largely kept mum.
"The only signs of people who are showing some sort of moral conscience are those few who stand with a card near the funeral home saying [burial] is a corporal work of mercy," said James Keenan, a moral theologian at Boston College. "To say, 'we won't bury him' makes us barbaric. It takes away mercy, the trademark of Christians. … I'm talking about this because somebody should."