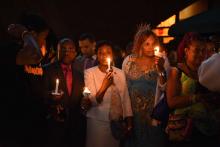 The sickness in our society is driven by the way we mistrust and pull away from one another; how we decide to care only about ourselves and our immediate families; the way we choose to serve only those who are like us – same race, ethnic background, sexual orientation, religion, political views.
Everyone else gets minimized and pushed away. We arm ourselves to protect our shrinking little space. We live like moles, wary of predators.
In guns we trust. In fear we live.