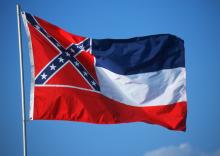 Campus police officers at the University of Mississippi removed the state flag from its campus this morning, days after resolutions from the student body, staff, and faculty urged such action, according to a press release from the University of Mississippi.
It is the first predominantly white institution of higher education in the state of Mississippi to ban the flag.
The student senate was the first to pass the resolution, after 3 hours of "respectful and impassioned debate" culminating in a 33-15-1 vote in support of removal.