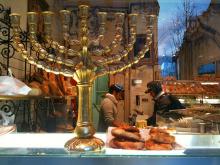 Let me tell you about a married couple. They have been together for many years. Their marriage has had some good moments, but there have also been periods of verbal and physical abuse. Finally, the wife tells her husband that she is considering leaving the marriage. She knows she has options. She can go to a shelter for battered wives, and even find her own place to live in safety and security.
As she starts her car in the garage, her husband runs after her. He drops to his knees and begs: "Please don't go. I won't be 'me' without you!"
Does she put her foot on the brake, shut off the engine and go back into the house? Does she stay in what has become a very troubled marriage?
That is precisely the question that many Jews in Europe have been asking themselves. More than 7,000 French Jews have moved to Israel in the last year, and there are clear signs others will follow.
This is huge. France has the third-largest Jewish community in the world.