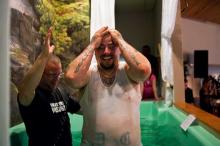 Two years ago, Chris Simpson led a white pride march.
Six months ago, he abandoned the white supremacy movement.
On April 15, he was baptized.
Five days later, Simpson sat in the waiting room of a skin and vein clinic, waiting to start the long and painful process of having his tattoos, most replete with Nazi or white pride iconography, removed.
"Hate will blind you to so many things. It will stop you from having so many things," Simpson said. "It consumes you."