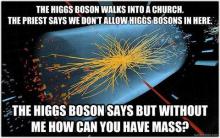 Thanks to Steve Knight for alerting me to this joke, which has become one of my instant favorites. After all, it combines two things I dig: nerd humor and theology (also nerdy).
Yeah, yeah, you may be groaning, but you're smiling while doing it. Admit it.
There's plenty of chatter lately about the so-called "God Particle," recently discovered , with some in the scientific field actually calling it the "goddamn particle," because (at least as I understand it) the discovery opens up the possibility of something without detectable mass actually giving mass to other particles.
Kind of like: In the beginning there was nothing, and then…
Sound familiar?