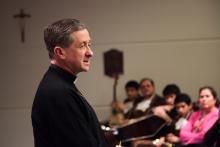 When Spokane Bishop Blase Cupich got a call 10 days ago with the news that Pope Francis had chosen him to be the next archbishop of Chicago — the pontiff's most important U.S. appointment to date — he was so taken aback that he couldn't speak for a few moments.
"To say that I was surprised doesn't come close to the word I would use," Cupich said Sept. 20 at a news conference in Chicago introducing him as the successor to Cardinal Francis George, who is 77 and battling cancer.
Asked by reporters how long it took for the reality of his appointment to sink in, Cupich smiled and said, "It's still sinking in."
A lot of other Catholics are trying to absorb the news as well, just as surprised that Francis picked the 65-year-old Cupich, who had been considered a long shot by many Vatican handicappers. They were also pleased, or concerned, that the pope had evidently chosen a bishop who shared his own emphasis on listening to the flock and caring for the poor.
"I think that he" — Francis — "sent a pastor, not a message," Cupich told reporters.