Matthew Vega is a Ph.D. student in theology at the University of Chicago Divinity School.
Posts By This Author
Libraries Are Tools for Revolution
11-02-2021
In keeping with the Black radical tradition and the story of the Israelites plundering the Egyptians before they fled Egypt (Exodus 12:35-38), I see my job as a library fellow to be transgressive insofar as I encourage students to "steal Egyptian gold." Libraries are not just places to check out books but spaces where transformative visions can be cast, organizers and students can meet, and institutional knowledge can be turned upside down. Much like the late Black Mennonite, Vincent Harding, or modern Black intellectual Fred Moten, I believe it is the work of scholar-activists to figure out ways to be in but not of institutions. In other words, we must figure out ways to redistribute Pharoah's spoils for the sake of the mixed multitude.
Black and Palestinian Christians' Struggle for Freedom
06-14-2021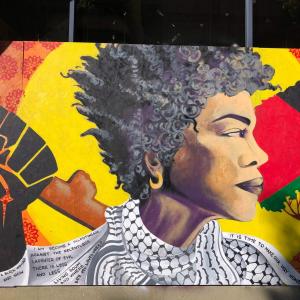 The first time that I visited Palestine was during my senior year at a Christian liberal arts college. It was one of those "Holy Land tours." You know the type: visit the sacred sites, avoid political chatter, and return with photos of you or someone you know getting baptized in the Jordan River. Hashtag blessed.