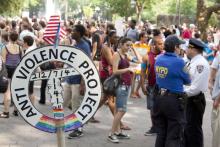 For the second time in Chicago this year, the life of a gender-variant young person of color was lost to violence.
Donta Gooden's body was found in an abandoned building on the city's West Side late in the evening of August 14th. Gooden, 19, who also went by the name "Tiffany," was stabbed to death just three blocks from where Paige Clay, a 23 year-old transgender woman, was shot and killed in April, according to media reports. The police investigation is ongoing.
The tragedy of these senseless killings, still so raw and heartrending for the loved ones of Gooden and Clay, is beyond comprehension and deplorable on every level. But perhaps even more unsettling is how often violent crimes against LGBTQ people occur and how little social outrage they ignite.
For many, these two terrible tragedies may melt into the background in a year when Chicago is scrambling to stem a rising tide of murder across the city (year -to-date homicides are up 25 percent from August 2011 according to data compiled by the Redeye. However, they are part of an alarming trend of violence targeting LGBTQ people of color – and transgender and gender-variant people of color in particular – which directly intersects with the front lines of the HIV epidemic.