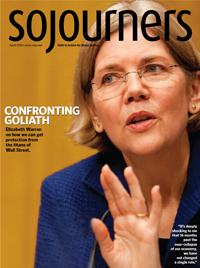 Magazine
Sojourners Magazine: April 2010
Subscribe to Sojourners for as little as $3.95!
Harvard Law professor Elizabeth Warren is the leading force behind the drive for a new Consumer Financial Protection Agency, which would serve not only as a check on some of the most egregious practices of financial institutions, but would also advocate in regulatory disputes on behalf of consumers' interests—a much-needed change that banking interests are fighting tooth and nail.
Learn more about privacy on Facebook with these resources.
Read a death threat from a Colombian paramilitary organization against a local church.