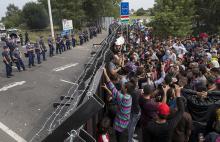 Western claims to stand for human dignity and human rights usually look pretty hollow whenever a major refugee crisis hits. That is what is happening now, as millions of refugees seek asylum in Europe — and mainly run into closed doors and cold shoulders.
The current crisis is a grave one. According to Amanda Taub, 19 million people today are refugees. They come from all over, though today especially from Africa and the Middle East. Four million have fled Syria since 2011. They are making global headlines as they surge into Europe, which is for many just the latest stop on a desperate odyssey.
They are dying in disturbing numbers — in rickety boats, sealed trucks and squalid refugee dumping grounds. They are not wanted where they come from and not wanted where they are going.