Simran Jeet Singh is an assistant professor of religion at Trinity University in San Antonio and the senior religion fellow at the Sikh Coalition.
Posts By This Author
Who Are the Sikhs and What Are Their Beliefs?
08-09-2018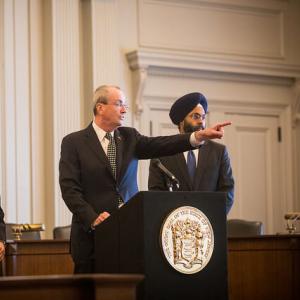 Why We Should Call Chris Harper Mercer by His True Title — A Terrorist
10-06-2015
In our modern world, "terrorist" is a racially coded word we have reserved primarily for describing Muslims engaged in acts of violence. We are quick to label violence as terrorism the moment we learn that the perpetrator is Muslim, yet we immediately stop short when a non-Muslim commits the same act of violence.
Mercer murdered nine innocent people to further his political ideology and worldview. So why don't we call him a terrorist? As a nation we can't continue to have it both ways and expect to adequately address the true threats we face together as a country.
Initial reports from the Los Angeles Times referred to him as a "shooter," CNN.com called him simply a "gunman." In the case of Roof, initial reports from USA Today referred to him as a "lone wolf," former Texas Gov. Rick Perry described the shooting as "an accident," and an expert interviewed by CNN quickly raised the question of mental illness .
The framing of mental illness plays into classic colonialist and Orientalist discourses in which the colonized are presumed to be savage and irrational, whereas the colonizers are rational and civilized. In other words, we presume that a violent white person must be mentally ill, whereas we assume that a person of color is either predisposed or conditioned to be violent.