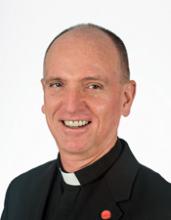 American Jesuits are pushing members of Congress who were educated at the Catholic order's schools to pass aid for thousands of refugee children who have surged across the border in Texas in recent months, calling proposals to swiftly deport them "inhumane and an insult to American values."
"I ask you, as a leader, a parent, and a Catholic, to uphold an American tradition of which we are all proud," the Rev. Thomas Smolich, head of the U.S. Jesuit conference, wrote to House Speaker John Boehner and 42 other House members who graduated from Jesuit high schools and colleges.
"We must welcome the refugee, the victim of trafficking, the child who has been abused or abandoned," Smolich wrote in the July 29 letter. "Let us follow in the footsteps of Jesus when he said, 'Let the children come to me, and do not prevent them; for the kingdom of heaven belongs to such as these.'"
Since last fall, more than 57,000 unaccompanied minors have flooded across the U.S.-Mexico border, mainly in south Texas, most of them from El Salvador, Guatemala and Honduras.
The migrants are often driven out by endemic violence in their home countries and drawn to the U.S. by prospects of better economic opportunities or the chance to reunite with their families.
But the influx has created a humanitarian crisis that has become a political wedge issue.