Church Engagement Assistant
Moving from Southern California to Washington, D.C. has been one of the most adventurous endeavors Leticia has embarked on. She can now proudly call herself an alumna of Biola University, as she became the first person in her family to graduate from college with a degree in political science. Prior to that, however, she was widely involved in her school, including the Multi-Ethnic Programs & Development department. There she learned about racial reconciliation and the development of her ethnic identity. Her favorite memories include planning activities for Hispanic Heritage Month, Gospel Fest, and the annual hip-hop concert known as Sola Soul.
As the daughter of undocumented immigrant parents she is passionate about issues of immigration, poverty, and racial injustice, to name a few. She greatly believes that the Lord has called her to courageously speak about her experiences with the hope that she will impact her listeners into action. When she is not reading, catching up on the news, and celebrating her Mexican-Guatemalan heritage, she is most likely enjoying the city life, eating spicy food, and looking for bookstores.
Now that she has made it far beyond her dreams, Lety is learning to not limit God's plans for her. She envisions a future where she will own enough books to make the library look bad, buy chickens, and grow an avocado tree, while never forgetting her call for social justice.
Posts By This Author
What I Wish Everyone Knew About Having Parents Who Are Undocumented
05-09-2016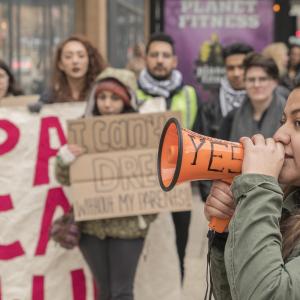 It's not the first time I've shared about the fear of being separated from my parents. In each of those cases, I have had the opportunity to allow people to look me in the eyes and share with me the burden of being undocumented in this country. "Please look me in the eye and tell me that you don't feel my brokenness and my powerlessness." I have a powerful voice, but writing — now that truly shakes me up.
Dear Supreme Court: This Is Personal
, 04-20-2016
On Monday morning, we stood outside of the U.S. Supreme Court building because, once again, we found ourselves at the mercy of a justice system weighing the legality of our presence in our own country.