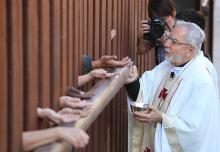 The nation's Catholic bishops are jumping into the increasingly contentious battle over immigration reform by backing President Obama's pledge to act on his own to fix what one bishop called "this broken and immoral system" before Republicans assume control of Capitol Hill in January.
In an unscheduled address Nov. 11 at the hierarchy's annual meeting, Seattle Auxiliary Bishop Eusebio Elizondo, chairman of the migration committee of the U.S. Conference of Catholic Bishops, said the USCCB would continue to work with both parties to pass comprehensive immigration reform.
But, Elizondo said, given the urgency of the immigration crisis and the electoral gains by Republicans who have thwarted earlier reform efforts, "it would be derelict not to support administrative actions … which would provide immigrants and their families legal protection."
"We are not guided by the latest headlines but by the human tragedies that we see every day in our parishes and programs, where families are torn apart by enforcement actions especially," he said.
During the summer, the president was moving toward unilateral action on immigration, despite warnings that such moves could exceed his constitutional authority or would turn voters against reform.
Then in early September, Obama said he would delay acting on his own, a move that was seen as a way to protect vulnerable Democrats from any backlash in midterm elections. On Sunday, Obama told CBS' "Face the Nation" that he was now "going to do what I can do through executive action."
"It's not going to be everything that needs to get done. And it will take time to put that in place," he said.