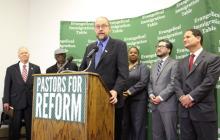 WASHINGTON — Trying yet again with new voices, more than 250 evangelical pastors came to Capitol Hill on Tuesday to push for immigration reform.
"I didn't want people to think this was only a Hispanic issue," said Eugene Cho, pastor of Quest Church in Seattle, at a news conference before meeting with dozens of mostly Republican members of Congress. "This is impacting a lot of people, including Asian-Americans."
Cho, who is of Korean descent, was among the new faces demonstrating support for immigration reform across racial and ethnic groups and denominations. He pointed out that one out of five Korean-Americans are undocumented.