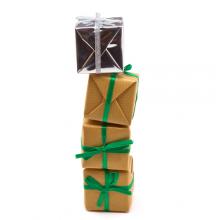 Like a lot of people, I love giving presents almost as much as receiving them. And the best gifts of all are ones that come with a clear understanding of the recipient in mind — ones that involve thought and care. Maybe a weird record with cover art only your best friend would love, or a necklace that goes perfectly with your mom's favorite dress.
But spending that much effort on gifts for every single person on your list can be exhausting. Handmade gifts sometimes take weeks to plan and make in advance, and you don't always have the time (or gas money, for that matter) to spend an entire day driving all over town searching for the perfect present, as romantic as that sounds.
Luckily, there are plenty of great resources out there to provide you with excellent gifts that give back. You can find some of them listed in Sojourners' Just Giving Guide, which offers options ranging from clothes and jewelry to coffee and pecans (yes, pecans!). And if you just can't find that special something, there are also plenty of choices for giving a donation in honor of a friend or loved one.