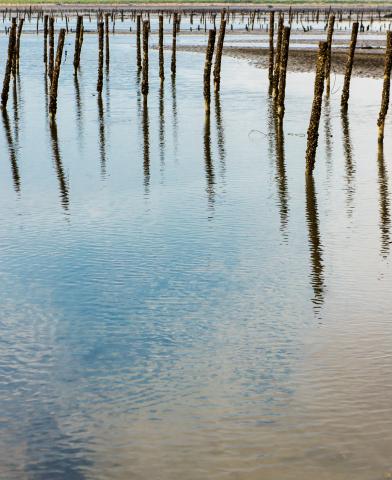 AS A NATIVE KOREAN who has studied and taught in the U.S. for more than 13 years, I feel like I'm always swinging between two lands—neither giving me a sense of home. Nostalgia might be too gentle a word to describe this in-between space. Rather, it's a bitter and unpleasant reality constantly reminding me that to some I appear "strange," "irregular," "awkward," "unskillful," or "suspicious." In this situation, I remain "unnatural."
I often feel the same way in the church. My ethnicity and gender are considered marks of "otherness"—even in my own denomination. Every waking moment I wrestle with this question: How can I incorporate my body, my culture, my language as a Korean woman theologian fully into the body of Christ? This wrestling, while uncomfortable, also prevents me from settling with easy or convenient answers. Perpetual dislocation leads me to pay attention to the unseen and unheard corners of the world. It demands I examine old convictions and construct a creative space for new ways of thinking about God, life, and the nature of justice and hope.
The majority of our biblical stories come from people who were also living outside their own land. They too were in some way dislocated. The biblical texts this month call particular attention to their emotions, tensions, and challenges. They invite all of us to feel lost with them, to tremble with them, and to be courageous with them.
Min-Ah Cho is assistant professor of theology and spirituality at St. Catherine University in St. Paul, Minn.
[ AUGUST 3 ]
Attention and Generosity
Isaiah 55:1-5; Psalm 145:8-9, 14-21; Romans 9:1-5; Matthew 14:13-21
DURING THE Babylonian exile (598 to 538 BCE), the Jews in the land of Judah were deported to Babylonia. In Isaiah 55, the prophet helps the jaded Israelites imagine the world where God invites them to live, the world where bread, wine, milk, and water are free. But how can they respond to God's call? The answer is provided in verse 2—if only the Israelites will "Listen carefully to me," God cries. Attention is necessary in order to accept God's invitation.
Matthew's story of feeding the 5,000, too, demonstrates how our focused attention can be a way to answer God's call. The crowds heard Jesus and they followed him. Their attention to him moved Jesus. With compassion, Jesus cured their sick and fed them. Matthew sees the occasion as a sign of the kingdom already present, inchoative, in Jesus and in the crowds' attention to Jesus.
Attention is not without effort, however. French philosopher and political activist Simone Weil says, "Attention is the rarest and purest form of generosity." Weil also believes that attention is necessary both to know God and to respond to the need of our neighbors, which cannot be separated from one another. The capacity to give one's attention to others is difficult and requires discipline. It requires making room for others even though we live in a culture filled with endless distractions and selfish pursuits. Attention to another, in our scenario, is almost a miracle. And Matthew's story tells us that, indeed, it is a miracle.
[ AUGUST 10 ]
The Given Moment
1 Kings 19:9-18; Psalm 85:8-13; Romans 10:5-15; Matthew 14:22-33
IN MATTHEW 14:22-33, the disciples fear Jesus walking toward them on the water, thinking him a "ghost" (verse 26). Peter seems intent on verifying Jesus' identity. Jesus obliges, yet he requires Peter to be attentive to the moment. When Peter's attention fails, he sinks. But his clumsiness is understandable. Jesus is standing on the windy, wavering water. The object of attention—truth—is not immovable. It is not a fixed object in dualistic opposition to the giver (God) and the receiver (the believer).
We often expect that God's truth is revealed with obvious and decisive signs. The more startling and unusual they are, the more one must trust they are the message of God. Simple-minded theology attributes natural disaster to divine vindictiveness. Elijah's story (1 Kings 19), however, challenges our expectation of such definitions of truth. Whereas Elijah anticipates God appearing in dramatic and unmistakable fashions, like "a great wind," "earthquake," or "fire," God talks to him with "a sound of sheer silence" (verses 11-12).
God's truth is barely perceptible and understandable because it is not an object to comprehend. God's truth is attainable, but it has a way of eluding those who set out to grasp and dominate it by themselves. Instead, God's truth is to be lived out by engaging and working with people, as these texts demonstrate—Jesus gets into the boat with the disciples; God sends Elijah to Damascus to meet with people and work with them. Only a receptive and empathetic person, paying attention in the sheer silence, can discover the truth and bear witness to it.
[ AUGUST 17 ]
A Woman's Courage
Isaiah 56:1, 6-8; Psalm 67; Romans 11:1-2a, 29-32; Matthew 15:10-28
THE CANAANITE woman in Matthew 15:21-28 leaves her native land desperately seeking a cure for her daughter. Like other women who approach Jesus, she is not under the authority or protection of a husband. She could be any migrant woman, perhaps a single mom trying to survive in a foreign country without legal status.
Jesus, on the contrary, here represents the side of the powerful. Though his land is under Roman occupation, Jesus is with his disciples, has male privileges, and has taught people with authority. His disciples think that Jesus' blessing should be granted only to Jews. They ask Jesus to send her away. Are they afraid of losing entitlements? Jesus appears to agree with them.
But she cries out for Jesus' attention, unexpectedly speaking the language of Israel, not her native tongue: "Have mercy on me, Lord, Son of David; my daughter is tormented by a demon" (verse 22). Jesus ignores her at first—then appears to reject her. But she does not give up. She is strong and insistent. She does not accept that there is a boundary between insiders and outsiders in Jesus' mission.
She overcomes Jesus' refusal by challenging him to reflect on his own conviction. "Yes, Lord, yet even the dogs eat the crumbs that fall from their masters' table" (verse 27). Jesus humbly accepts her challenge. He opens his mind to this outsider, to the new vision for the kingdom of God in accordance with the vision in Isaiah 56. God will gather others together, besides those already gathered, saying, "my house shall be called a house of prayer for all peoples" (verse 7).
[ AUGUST 24 ]
Claiming Identity
Isaiah 51:1-6; Psalm 138; Romans 12:1-8; Matthew 16:13-20
NEW TESTAMENT scholar Elaine M. Wainwright points out a dangerous dialogue pattern in Matthew 16, when Jesus asks his disciples, "Who do you say I am?" (verse 15). When we read the text in a broader context, it could be argued that Peter's answer—"You are the Messiah, the Son of the living God"—is simply acknowledging a characterization of Jesus popular in the Matthean communities. Yet Peter's confession on behalf of all the disciples, in effect, silences them. Further, in a community with strong female leadership, Peter's confession genderizes power as male normative—all the male and female participants of God's kingdom are represented by the male disciple Peter, with subsequent consequences throughout Christianity.
If we focus on Jesus' question, not Peter's answer, then the dialogue renders the question about Jesus' identity open and tense. It allows room for "creative meaning-making." Instead of affirming Peter's authority, the question invites all of us—regardless of race, ethnicity, gender, and class—to ponder the relationship between Jesus and ourselves: "Who do you say I am?"
The church has a role to play in such creative meaning-making as translator, connector, and negotiator, by giving particular attention to the voices of the powerless. Attention does not happen when we are accustomed to answers that have been considered correct and universal. Attention does not happen without practice. Jesus' question requires experimental attempts to create space for seeing and thinking independent of dominant patterns.
[ AUGUST 31 ]
Idolatrous Suffering
Jeremiah 15:15-21; Psalm 26:1-8; Romans 12:9-21; Matthew 16:21-28
THE FIRST OF THREE Passion predictions in Matthew starts here in verse 21. Jesus warns his disciples that he must "undergo great suffering ... and be killed" before rising from the dead. The announcement of Jesus' suffering and death are closely tied to what it means to follow Jesus as a disciple.
Jesus' redemptive suffering evokes a fundamental discomfort for Christians. It also deeply affects our relationship with God. For some it enriches life and reveals a depth of courage born of love and compassion. For others, it can become an instrument of oppression that justifies patterns of violence by sacralizing unjust abuse as somehow beneficial.
The Passion narratives address the historical facts of unjust oppression. They reveal a frank description of our human condition—our collective violence and persecution against the innocent. They by no means suggest that God wants more effective and nicer victims to "forgive" greater sinners. As S. Mark Heim says, "The Passion narratives follow the script of sacrifice as diagnosis, not as prescription."
Jesus experienced extreme forms of dehumanization through his suffering and crucifixion. We must first pause and witness that horrible violence, lest we rush expeditiously to his "sacrificial generosity." Jesus' suffering teaches us neither to worship such dehumanization nor to perpetuate it. It impels us to stop it. His resurrection declares that this is possible. When we only worship his suffering, then suffering becomes idolatry. Thus Paul urges us, "Do not be overcome by evil, but overcome evil with good" (Romans 12:21). 
"Preaching the Word," Sojourners' online resource for sermon preparation and Bible study, is available at sojo.net/ptw.
Image: reflection on water, littlesam / Shutterstock