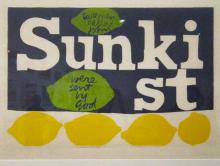 Combining images and words from advertising, pop culture, and religion, the bold graphic art of Sister Mary Corita was as deeply representative of the spirit of the 1960s as it was ubiquitous in church basements, dorm rooms. and urban communes of people involved in the struggle for civil rights and the campaign to end the Vietnam War.
In today's visual and graphically dominant popular culture, Corita's work — her bold typography, vivid colors, the use of ad logos and slogans — resonates with a new generation, attracted by what has been called "her festive involvement in the world'' and her interest in "blurring the lines between art and life.''
"Corita's art from the 1960s, which is based in advertising, has this great pop appeal to us today in our media-saturated culture,'' said Kathryn Wat of the National Museum of Women in the Arts in Washington.