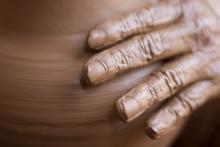 Biblical writers suggest that God loves a holy mess. They compare God's creative spirit to a strong wind, and we all know what happens when a powerful wind blows through our windows or through our lives — everything gets upended! One image in Genesis has God scooping up a bit of earth to create us. Yes, God had to get some dirt under the fingernails in order to bring us about.
Jesus was creative in how he touched and healed people, often making himself ritually unclean in the process. He embraced his uncleanliness.
Sadly, many religious institutions discourage us from doing the same.