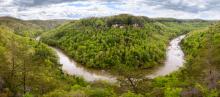 Just as the Treaty of Versailles crushed the Germans after WWI to become the resentment stream [from which] the Nazis flowed, so the Sykes-Picot [Agreement] of the same time crushed the Muslim Middle East under colonialism, followed by dictatorships, then deepened by the 2003 invasion of Iraq.
We can all lament or question the necessary violence required to stop IS brutality. [But] many of our church traditions had blessed as "necessary" the waves of past violence that helped create the poisoned well [from which] the IS flows.
Turning to theology — Joseph, Elisha, and Jesus stood in similar rivers of death yet turned to life.