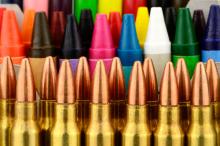 I grew up in the state of Colorado. It's known for cowboys, mountains, skiing, smoking pot, the Broncos, but also — mass school shootings. Since the recent shooting at Seattle Pacific University my connection to mass murder and school shootings has become all too familiar.
My younger brother is a freshman at Seattle Pacific University where a 26-year-old with a shotgun recently killed one and injured three others in the latest school shooting. My brother is finishing up his first year of school as a music major before moving to Santa Cruz in the summer to work as Christian summer camp counselor. While untouched by the damage to the shooter, another young man on the same dorm floor as him, Paul Lee, was not so fortunate. He was taken to the hospital where he was pronounced dead (three other wounded victims survived). Though the body count was considerably less than recent events at Santa Barbara, its timing mirrors the increasing normality with which such shootings are now taking place. Sadly, a tragedy such as this merely becomes fodder for political bickering and ideological advancement.
My brother and I grew up with guns in the town of Bailey, Colo. Bailey is a strange mixture of rednecks, conservative Christians, new age folks, commuters, hippies, outdoor enthusiasts, and undeniably proud gun owners. My dad was a hunter and kept a rifle beneath his bed, which was made out of Aspen trees he chopped, stripped, and stained himself. Every October he would take a week off work and go into the mountains with some friends to go hunt.