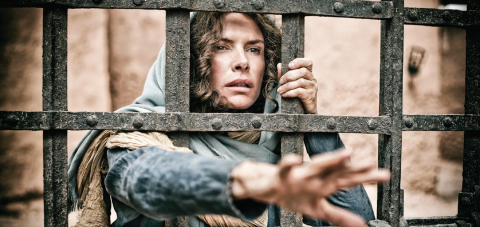 HOW IS IT that a miniseries based on the Good Book could evoke sectarian and violent notions of the Divine that would have seemed backward to some even back in the era of melodramatic biblical epic cinema? The History channel's The Bible, like so much of so-called "religious pop culture," seemed to be the product of good people trying to do a good thing, but at best putting the desire to convey a particular message ahead of making the best artwork for the medium.
The politics of The Bible seemed to perpetuate an "us vs. them" lens. It left me wishing for a treatment of scripture presented from the perspective of the marginalized, instead of a portrayal of "victory" as being the deaths of people considered different. Couldn't someone make an Exodus movie about Moses' neighbors—you know, the ones who saw God's favor rest on the boy next door, while their son was killed by a psychopathic king? Or one focused on the myriad people groups considered "unclean" and worthy of genocide at the hands of those who claim to speak for God? Or a rendering of John's Revelation that understands it as a poem about remarkable beginnings, the battles of the human heart, and a love willing to remake the world to set us free from the traps we've laid for ourselves? You don't even have to be that controversial—can't someone just make a decent movie about Ruth or any of the many cool women in the gospels?
I hope the next Bible adapter might take some inspiration from the great young director Jeff Nichols, whose current film, Mud, manages to tell the truth about violence, present a vision of the South that isn't a parody, and offer some realistic hope. It finds a surprising corollary in the form of Iron Man 3, which (before it turns into typical comic book bad-guy killfest) offers an enormously important angle on the post-9/11 fear industry. Mud shows that human beings are capable of giving up swords in favor of sacrificial love, and Iron Man 3 understands that in order to get a people to support monstrous cruelty, you have to invent an enemy worse than they think themselves to be.
One problem with The Bible and many other popular treatments of relig-ious imagery is that these movies and TV shows are so often uncritical of the text and more interested in recruitment to pre-existing ideology than exploration of a frontier. A bigger danger, however, is that in their presentation of a sectarian world controlled by an ultimately genocidal God, they may actually be part of the matrix transcended in Mud and critiqued in Iron Man—you know, the one that allows a so-called "Christian" nation to start wars.

Gareth Higgins is a Sojournerscontributing editor and executive director of the Wild Goose Festival. Originally from Northern Ireland, he lives in Asheville, North Carolina.