Matt Smith is an Atlanta-based writer and editor who has covered criminal justice, science and related public policy for a variety of outlets in the South, the West and nationwide. He has been a contributor to Youth Today and Juvenile Justice Information Exchange since 2015.
Posts By This Author
Where We Put Kids Who Break the Law
11-27-2017
State by state, juvenile-justice advocates are building more compassionate—and more effective—models for youth prisons.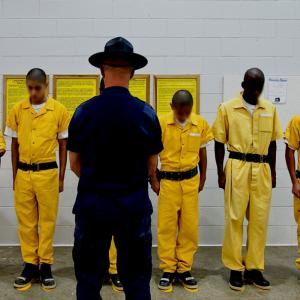 EVERY DAY FOR A YEAR, Marcus awoke in a locked room in a Wisconsin youth prison.
"You wake up every day hoping it's a dream, and it's not," said Marcus, who at 17 was sent to the Lincoln Hills boy's detention center for sexual misconduct. "Four walls, a desk, and a cot."
He said guards in that lockup often told boys, "You'll be back." But Marcus—who spoke on condition that he not be identified by his full name—not only swears that's not going to happen to him, he's working to keep others from having the same experience.
Despite years of reform efforts, thousands of teens still wake up in large, secure, prison-like facilities such as Lincoln Hills, many of them for nonviolent offenses. Marcus is one of a growing number of voices arguing that such places should be shut down for good.
"It's clear that youth prisons are not places of redemption and hope," said Liane Rozzell, a senior policy associate at the Annie E. Casey Foundation. The foundation has led a nationwide push to shutter juvenile incarceration facilities, which have failed to reduce youth crime, and replace them with effective alternatives that keep kids in their communities, are less expensive, and drive down the juvenile crime rate. "There's a clear lane for faith-based organizations and people to grasp that real care for young people means we will not be putting them in situations that traumatize them, cut off their opportunities, and lead them to essentially be thrown away," Rozzell said. These institutions fail the duty to provide for the "basic human dignity" of youth, she added, violating the principles not only of Christianity but of many other faiths.
Youth Ambassador Returns to Work Four Months After Being Shot
01-08-2016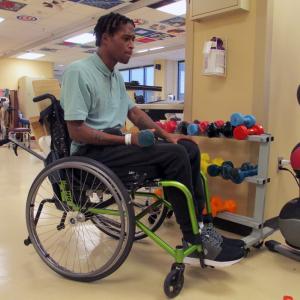 Semaj Clark is a determined young man. The Los Angeles teenager's steadfastness helped him emerge from a childhood punctuated by a string of foster homes and arrests to become an ambassador to troubled youth. Now he's determined to learn how to get around in his new wheelchair. And he's resolute that his anti-violence campaign can take root anew in Savannah, Ga., where he'd taken that message of hope and transformation in October — only to find himself with a bullet in his spine.