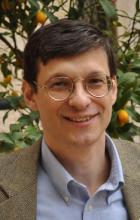 A new institute in Jerusalem has been awarded $2.2 million to help Christians and Jews study Jewish texts, launching what's being billed as a new kind of Jewish-Christian cooperation.
The Herzl Institute was awarded what's being called the first ever multimillion-dollar grant in Jewish theology by the U.S-based Templeton Foundation, a philanthropic organization that has focused much of its giving on science-related projects. The Herzl Institute is a research institute that focuses on the development of Jewish ideas in fields like philosophy and history.
The institute is named for Theodor Herzl, considered the father of modern political Zionism, ideas that have found much support from conservative and evangelical Christians in the U.S.
Jewish and Christian collaboration has often been relegated to the political level, said Herzl President Yoram Hazony. The partnership reflects a new kind of engagement between Christians and Jews, he said.