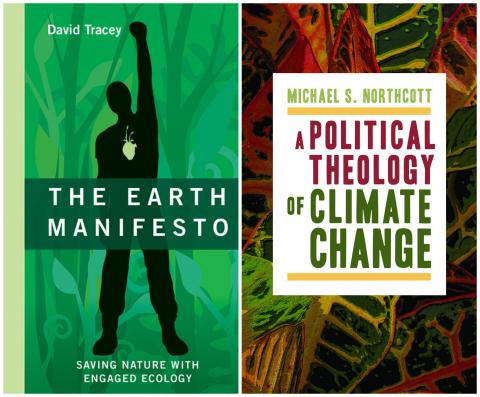 CLIMATE CHANGE and its accompanying issues are mammoth topics. David Tracey's The Earth Manifesto and Michael S. Northcott's A Political Theology of Climate Change are ambitious and sound theoretical and practical treatments.
With different faith backgrounds, each brings to the task the urgency of the moment. Tracey is a Vancouver urban ecologist, a fiction and nonfiction writer, a writing teacher, and an avid housing co-op dweller with his wife and two school-age children. He has spearheaded several community garden co-ops. Northcott is a priest in the Church of England and a University of Edinburgh social ethicist who has written on understanding space and its sacred sharing, urban ministry and theology, and now this, his third book on climate change.
Tracey's The Earth Manifesto dives right into the ecological mandates of our time and place. It gently and consistently employs an implicit Buddhist perspective to offer concise chapters—really a set of tools—to name, address, engage, and sustain a meaningful citizens' involvement. These are expressed in two parts: three big ideas and three big steps. The ideas consist of "Nature Is Here," "Wilderness Is Within," and "Cities Are Alive." Tracey's three big steps are "groundtruthing"—engaging deeply in a place to shape one's environmental efforts; political advocacy; and building a community to help spread a campaign for change.
Two concepts stand out vividly. Tracey's explanation of groundtruthing conveys the need to test a theoretical perspective by getting right on the ground to verify its potential in the concrete. One intuits incarnational theology here. He also affirms the nature of engagement from its French origins to mean "someone passionately committed to a cause": pledged, dedicated, or devoted. For me this summons the discipline of spirituality in the service of social justice.
Northcott's A Political Theology of Climate Change completes a trilogy, the prior two being The Environment and Christian Ethics and A Moral Climate: The Ethics of Global Warming. To date, it is likely the most comprehensive, ambitious, and demanding volume on the combined subject of theology and climate change. He culls from various sources across diverse disciplines and attendance at hearings on climate issues and proposed solutions. Northcott's theological and political commentary is especially compelling. He presses the questions of whose self-interests are dominant, especially when "inter-generational buck-passing" occurs; how we can discern the presence and meaning of evil (when people and nations are mere pawns or means to others' controlling ends); and what we can do to organize or reorganize our institutions for the sake of the common good.
If one can resist Northcott's learned and wide social-ethical descriptions, it is far harder to resist his deep prescriptions. He notes that humans are part of the whole inter-connected ecosphere. He confesses that deep change is now necessary, and professes that small is more manageable. He questions the amorality in globalization and affirms that nations have legal and moral responsibilities.
The concluding "Revolutionary Messianism and the End of Empire" chapter presents brilliant biblical, historical, and political themes in a social-ethical context. I cannot resist his concluding credo: "The climate crisis indicates that, to honour the God who rules over earth and heaven, local and national communities should find ways to conserve their own fossil fuels in the depths of the earth, while at the same time creating and commissioning a new energy economy dependent on sunlight, wind, and biomass, and so re-create the historic and customary connections between nature and culture, land and life, love for neighbour and nature which are central to the Jewish and Christian messianism of empire-challenging love."
Tracey's and Northcott's works complement each other and resource a huge undertaking. They provide nourishment for engaging and grounding truth along with our faith and moral convictions and a sustaining perspective for our relentless self-questioning as we wonder if the commands to do justice, a real guilt for plain disobedience, the gnawing self-interest of our legacies, and a concern for an inclusive redemption may all combine to be enough.
These works contain much to ponder, given how little time we have to turn from our flawed and foolish ways.
Barry K. Morris is a United Church of Canada minister with the Longhouse Council of Native Ministry in Vancouver, British Columbia.