Posts By This Author
Can Grounded Faith Save Us?
05-09-2014
"The Earth Manifesto: Saving Nature with Engaged Ecology," by David Tracey and "A Political Theology of Climate Change," by Michael S. Northcott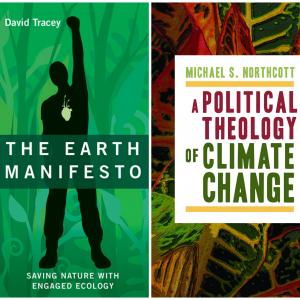 CLIMATE CHANGE and its accompanying issues are mammoth topics. David Tracey's The Earth Manifesto and Michael S. Northcott's A Political Theology of Climate Change are ambitious and sound theoretical and practical treatments.
With different faith backgrounds, each brings to the task the urgency of the moment. Tracey is a Vancouver urban ecologist, a fiction and nonfiction writer, a writing teacher, and an avid housing co-op dweller with his wife and two school-age children. He has spearheaded several community garden co-ops. Northcott is a priest in the Church of England and a University of Edinburgh social ethicist who has written on understanding space and its sacred sharing, urban ministry and theology, and now this, his third book on climate change.
Tracey's The Earth Manifesto dives right into the ecological mandates of our time and place. It gently and consistently employs an implicit Buddhist perspective to offer concise chapters—really a set of tools—to name, address, engage, and sustain a meaningful citizens' involvement. These are expressed in two parts: three big ideas and three big steps. The ideas consist of "Nature Is Here," "Wilderness Is Within," and "Cities Are Alive." Tracey's three big steps are "groundtruthing"—engaging deeply in a place to shape one's environmental efforts; political advocacy; and building a community to help spread a campaign for change.
Two concepts stand out vividly. Tracey's explanation of groundtruthing conveys the need to test a theoretical perspective by getting right on the ground to verify its potential in the concrete. One intuits incarnational theology here. He also affirms the nature of engagement from its French origins to mean "someone passionately committed to a cause": pledged, dedicated, or devoted. For me this summons the discipline of spirituality in the service of social justice.