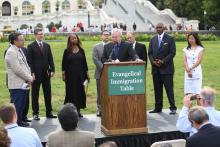 "This is a day that the Lord has made."
Those words begin a very popular worship song among evangelical Christians. And they were the first words that came to my mind when I stood alongside the widest spectrum of evangelical leaders we have ever seen at a gathering yesterday morning on the West Lawn of the U.S. Capitol. We were there to lead a day of prayer and discussion with the leaders of the House of Representatives about the urgent need for comprehensive immigration reform — more specifically to fix a system that is not only broken, but cruel for millions of people.
The whole day was sponsored and led by the Evangelical Immigration Table, one of the most hopeful signs in many years of how Christians can come together to make a difference. At the press conference, Christianity Today editor Andy Crouch, speaking as a journalist, said he has never seen such evangelical unity over any other issue
.