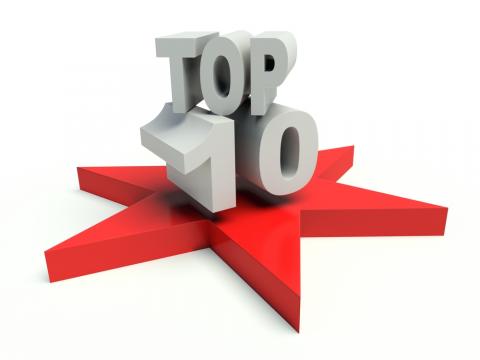 Sojo editors looked back at the blogs of 2013 and found that these were the 10 most widely read Sojourner blog articles of the past year.
1. Seven Lies About Christianity — Which Christians Believe — There's an unhealthy expectation within many faith communities that Christians are always supposed to be joyful, as if being anything other than a smiling, peaceful, and jolly spiritual cheerleader is detrimental to Christianity. That's just one of the lies listed here.
2. 10 Reasons Why Men Should Not Be Ordained for Ministry — Regardless where you sit, stand, or wrestle with the issue of women in church leadership, here are 10 (satirical) reasons men don't belong in the ministry.
3. 10 POLITICAL Things You Can't Do While Following Jesus — Jesus didn't worry much about stepping on political toes, and neither does Mark Sandlin.
4. Why I Made My Teenager Go to Church — In this age when those who are "spiritual but not religious" seem to have more relevance than churchgoers, it's easy to wonder why church attendance matters at all. Mallory McDuff tells us why it does.
5. 10 Things You Can't Do While Following Jesus — Lots of people claim to be "following Jesus" and then they do stuff like this.
6. The Most Controversial Sentence I Ever Wrote — The most controversial sentence Jim Wallis ever wrote, considering the response to it, was not about abortion, marriage equality, the wars in Vietnam or Iraq, elections, or anything to do with national or church politics. It was a statement about the founding of the United States of America.
7. 10 Things THE CHURCH Can't Do While Following Jesus — The church should be full seeking to follow Christ, seeking to follow the teachings of Jesus. However, increasingly, there are those who claim the church is full of hypocrites.
8. Lament from a White Father — Following the shooting of Trayvon Martin, Jim Wallis writes that racial profiling is a sin in the eyes of God. It should also be a crime in the eyes of our society, he says, and the laws we enact to protect each other and our common good.
9. The Age of Innocence: Wes Anderson's 'Moonrise Kingdom' — Cathleen Falsani sees Wes Anderson's Moonrise Kingdom as the perfect film about innocence.
10. Meet the Republicans Who Voted to Slash $40 Billion from the Food Stamps Program —A list of the Republican members of Congress who voted for a bill to cut food stamp funding.
Photo: Gil C/Shutterstock