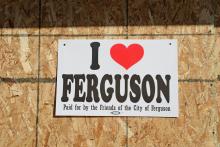 For me, Thanksgiving was always Christmas' annoying little sister. Thanksgiving isn't a festive season spanning three months that warrants its own albums; it's a day when American gluttony reaches its zenith, and also the Cowboys play. It's not a holy day of obligation — and in my worst moments, I complain to my preacher husband about the additional service "invading" our holy midweek day off work.
But this year Thanksgiving feels especially out of place — sandwiched between an early winter and the hopelessness of misunderstood lament. I want so badly to be thankful because I truly have so many reasons to fall on my knees in exaltation. But before I count my "blessings" — before the praise hits my lips, it's strangled by the cry for others whose lots might only be described as cursed.
Adam Ericksen penned a great reflection this morning, saying, "God doesn't force us to be thankful in times of grief and despair. Rather, God meets us in our honest and raw emotions."
Bitterness seems all at once selfish and appropriate. I grieve the chasm that has been revealed between brothers and sisters. If there is anything I learned from my Monday night glued to television screens watching my former home of St. Louis in flames it's that this "conversation" everyone keeps saying we need to have is happening in two different languages.