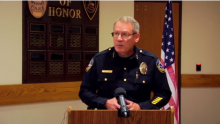 McKinney, Texas police officer Eric Casebolt — whose recorded response to a disturbance call at a community pool party on Friday went viral, sparking national outrage about the force used against black teens — resigned from the police force on Tuesday. Police Chief Greg Conley said Tuesday evening that Casebolt was "out of control" and his actions were "indefensible."
"He came into the call out of control and as the video shows was out of control during the incident," Conley said, adding, "I had 12 officers on scene and 11 of them performed according to their training. They did an excellent job."
From local ABC News affiliate WFAA in Dallas:
The 10-year veteran of the McKinney Police Department was placed on administrative leave Sunday after a 7-minute video of the incident at a Craig Ranch community pool gained traction on the Internet. That clip has now been viewed almost 9.5 million times.

The footage shows Cpl. Casebolt, who is white, aggressively responding to the disturbance call, using profane language with black teenagers, unholstering his service weapon and pointing it toward the unarmed teens, and restraining a 15-year-old girl in a swimsuit by forcing her to the ground and placing his knee on her back.
View the original video of the incident below.