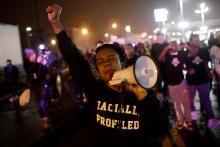 A grand jury has found that no probable cause exists to indict Darren Wilson, the Ferguson, Mo., police officer who shot and killed 18-year-old Michael Brown, on Aug. 9, said St. Louis County Prosecuting Attorney Robert P. McCulloch on Monday evening.
McCulloch said the grand jury was instructed on the law and presented on five possible indictments. He emphasized that the jurors "are the only people who have heard and examined every witness and every piece of evidence."
Protests throughout the St. Louis metro area — as well as nearly 100 cities across the country — are planned in response to the decision. Last week, Missouri Gov. Jay Nixon declared a preemptive state of emergency and activated the National Guard to respond to "any period of unrest that might occur following the grand jury's decision concerning the investigation into the death of Michael Brown." Rev. Traci Blackmon, a clergy leader in the St. Louis area, recently told Sojourners that while the city and county police departments have amassed weapons and riot gear to react to the protests, local community leaders and faith groups have been stocking up on bandages and first-aid materials. 
Earlier in the day Brown's family asked for 4.5 minutes of silence this evening before protests begin — a statement on the 4.5 hours Michael Brown's body was left in a Ferguson street following the shooting.
The Justice Department is conducting its own federal investigation, however recent reports have indicated that it is not likely to result in civil rights charges against Wilson. 
Stay tuned to Sojourners for continued updates and analysis.