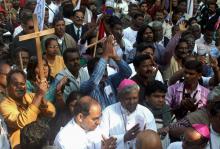 NEW DELHI — Police in India's capital used water cannons and canes on peaceful Christian and Muslim leaders Wednesday while they were demanding equal constitutional protections.
Organized jointly by confederations of churches and Muslim groups in India, the demonstrators demanded affirmative action for Dalits (formerly "untouchables") who have converted to Christianity or Islam.
Only Dalits who have converted to Hinduism, Sikhism, or Buddhism are entitled to affirmative action slots in jobs and educational institutions, among other protections.