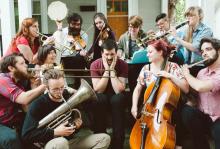 No abundant bright bloom of flowers on the CD cover or obscure Latin in the title or gentle dance of cursive font describing the song list, nothing can hide that this is not your light-and-breezy summer release of cruising-with-the-top-down jams, but rather, a full-blown concept album of folk hymns about the art of dying.
The Art of Dying (officially Ars Moriendi) represents a brave and risky move for the make-it or break-it breakout album of an up-and-coming band. The Collection's courageous collection of orchestral pop hymns chart and curate the grieving heart of a gifted songwriter and the community of bandmates and fans that surround him.
At a time when the flame of the alternative folk explosion still burns bright despite much backlash, this North Carolina ensemble shows up as the son of Mumford and Sons, married to Edward Sharpe's second cousin, with too many members to pack the tiny stages of clubs and bars, with a sound fit for mountaintop vistas, and songs as mystic visions that pierce the veil between life and death.
Despite the heavy earnestness of the entire package, it's exactly the grief-support-group that my ears need, and I imagine a rendering of fragile faith and hope against hope that our world craves. The Collection manage to sing about Jesus and Thomas and the prodigal son without getting pushy, dancing on the fringe of explicit CCM, exploring sacred-meets-secular crossover paths and gritty crossroads that groups like Needtobreathe, Drew Holcomb and the Neighbors, and Gungor have already traveled.
Death remains that earthly finality to render our denial mute — and our religious musings about whether it represents cosmic reunion, bodily resurrection, or eternal rest are powerless when we admit that the mysterious premonitions of the "heaven is real" crowd are but passing glimpses and not bulletproof facts. The Christians that remain relevant in our world have invested in the Kingdom here, now, and all around us, and they don't shove tracts that guarantee afterlife fantasies in our faces on the same street corners where tramps and hobos sleep and sometimes starve.