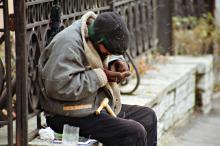 A Hymn for This Sunday
This hymn by Carolyn Winfrey Gillette asks the question what does it mean to be a Christian, a church? Whom do we serve? How shall we respond to those in need? It is based on the lectionary passage Matthew 21:23-32 (September 28, 2014). The United Methodist Worship Office has formatted the hymn with the music as a free download.
Once a Father Told His Children
NETTLETON 8.7.8.7 D ("Come, Thou Fount of Every Blessing")
Once a father told his children, 
"Go and do your daily chores.
Go and work out in my vineyard; 
All that's mine will soon be yours."
One responded, "I won't do it!" 
Then he changed his mind and went.
One said, "Yes! Just send me to it!" 
But he went back home again.
...