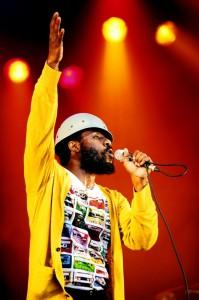 PRIOR TO MY conversion to Christianity, I was the roving reggae reporter for High Times, a magazine dedicated to marijuana culture. I also wrote music reviews for NY Press, Virgin Records, and various other publications.
One of my favorite artists from the early 2000s was Cody Chesnutt (he spells his name with two capital Ts at the end), an independent recording artist popularly known for his hit song "Seed 2.0," a soulful rock and hip-hop hybrid released in 2002 with The Roots.
Chesnutt's musical debut was a lo-fi soul and rock-and-roll album titled The Headphone Masterpiece. It was a double disc (this was still the heyday of compact discs) that he recorded on a 4-track recorder in the bedroom of his Los Angeles apartment. He played all the instruments—guitar, bass, keyboard, and organ. The sound quality and lyrical content are both intentionally gritty.
Headphone quickly became the soundtrack to my college years. I was a reveler, filled with hypersexual bravado and abundant egotism, and Chesnutt's music reinforced and undergirded my misdirected youthful zeal. His lyrics were unrepentantly misogynistic, and his strong sense of self pervaded each track. He exploited his infidelity and womanizing in his music, at times in a prophetic way, such as in "My Women, My Guitars," which he opens with incredibly crude lyrics, but later croons with utmost vulnerability: "Man, something's been killing me. My women, my guitars. I've been living hard. My breakdown is on the way. I know my breakdown is on the way. So I get up on my feet. Falling back on my knees to pray."
Chesnutt was raised in Atlanta listening to Sam Cooke and Michael Jackson, among others. He was part of the Atlanta music scene in the early 1990s and studied business at a Florida college for a while, but decided to move to Los Angeles where his breakthrough came by writing songs for Death Row Records, home to Snoop Dogg and the late Tupac Shakur. Chesnutt even wrote a song for the movie Gridlock'd, starring Shakur. His experimental rock band, The Crosswalk, signed with Hollywood Records (a Disney subsidiary), but they were eventually dropped from the label. The band fell apart, but he still had all the recording equipment in his apartment.
Thus, alone in his bedroom, The Headphone Masterpiece was birthed. He was, and continues to be, a fiercely independent recording artist. After recording the album, he shopped it around to different record labels, but no one was buying—some record producers thought it was a demo and wanted to retool it, but he felt the music was complete—so he made it available through his website and later released it on his own label, Ready, Set, Go!
Headphone made some waves, but received no real acclaim. It charted for just one week on the Billboard 200. It was destined to remain an underground album until Questlove, drummer and frontman of The Roots, heard the album and quickly moved to re-record Chesnutt's song "The Seed" (renamed "Seed 2.0") as the second single from their 2002 album Phrenology.
Chesnutt earned the worldwide exposure he was seeking, he was an ascending star, record labels were at his beck and call, and yet something profound happened—he walked away. In fact, it might be better said that he repented, he changed his mind about music, life, relationships, and the message he was promoting.
WHEN I RETURNED to my faith almost 10 years ago, I too felt a conviction to change my ways, my work, and the message that my life promoted. I stopped writing for High Times and took a job in the editorial department at Forbes, but soon realized that Forbes was no better, and so I joined a small nonprofit in the South Bronx called Youth Ministries for Peace and Justice. I continued to listen to music by Amadou & Mariam, Thomas Mapfumo and the Blacks Unlimited, Salif Keïta, and others, but I turned from other music that promoted lifestyles that felt negative. That is when I realized I could no longer listen to Cody Chesnutt.
Little did I know he too was experiencing a deep conversion and his music would make a 180-degree turn in regard to its lyrical content.
I recently had the opportunity to hear Chesnutt perform at the world famous Apollo Theater in Harlem and talk with him afterward.
Soon after the release of Headphone, Chesnutt moved from L.A. to Tallahassee, Fla., toured infrequently, and recommitted himself to his wife. They recently celebrated 20 years of marriage. In 2003, a year after the release of Headphone, they had their first child, a daughter—they now have two children. It was during this time that something strikingly transformative occurred to Chesnutt. He began to attend church; his social consciousness deepened.
There was a decade of near silence; little to no music was released, but deep creative stirrings were occurring in Chesnutt.
In 2010, he released one EP, Black Skin, No Value, which, according to Chesnutt, "is a bridge body of work that speaks to an issue that is still very prevalent in our society—the value that is placed on black life." He is not an activist in the traditional sense, yet he has become an agent for social change through his music. He released a rough cut of a sorrowful song indicting George Zimmerman in the murder of Trayvon Martin. Never one to mince words, he sings, "Zimmerman, you're a murderer. You killed this kid. You killed this kid."
In 2012, Chesnutt fully returned to the music scene with the release of Landing On A Hundred. Chesnutt was just coming out of his 20s when he recorded Headphone. Landing was recorded in his early 40s. The sound quality and lyrics are more refined, more mature, and infused with themes of redemption and restoration, indicative of his own transformation. Unlike Headphone, Landingcontains no explicit language and no misogyny. Instead he sings praises to fidelity on tracks such as "Love is More Than a Wedding Day." Chesnutt explains that the album title refers to, "Landing on something truthful. Landing on something purposeful, something meaningful."
Funded via Kickstarter, much of Landing was recorded in Memphis at the Royal Studios, the same studio where Al Green, whose conversion in some ways parallels Chesnutt's experience, recorded some of his most famed songs. Chesnutt even used the same ribbon microphone that Green used for "Let's Stay Together" and "Love and Happiness."
Chesnutt's first track on the new album, "Til I Met Thee," lays the ground. He sings, "I was a dead man. I was asleep. I was a stranger in a foreign land til I met thee, Lord." Redemption and rebirth is a theme throughout the album.
WHEN I RETURNED to my faith, I was eager to discover quality Christian music but, unfortunately, it seemed most of it was over-produced or contained lyrics that were shallow, seemingly self-centered, or aggressively victorious. Personally, I'm seldom seeking the God who conquers and dominates, but one who heals and liberates, forgives and redeems.
Chesnutt strikes a balance on Landing, recognizing that there is promise of redemption and second chances for each of us while simultaneously taking the risk of being vulnerable. Of particular note is "Everybody's Brother," which is written from three perspectives—a crack addict, a gambler, and a womanizer. It is part autobiographical—specifically the womanizing—but not the crack: That is based on an uncle of Chesnutt's. He sings: "I used to smoke crack back in the day / I used to gamble rent money and lose / I used to dog the nice ladies, used to swindle friends / But now I'm teaching kids in Sunday school and I'm not turning back."
His show at the Apollo was electric. He performed material mostly from Landing, but for the first time in more than a decade, Chesnutt recently began incorporating into his live performances select songs from Headphone that are, as he said, "in the same spirit where I currently reside."
Chesnutt's new album is not overly religious, yet the divine is sensed in each track. Twitter user John Kelli tweeted, "If you're a young black man it is imperative that you own Landing On A Hundred." It might be added that if you have stumbled and struggled, been down and out, but still hope, Landing is a must listen for you. 
Jason Storbakken is cofounder of the Radical Living Christian community in Brooklyn, N.Y., and chapel director of The Bowery Mission. His first book, Radical Spirituality: Repentance, Resistance, Revolution (Orbis) releases in September. In March 2014, Chesnutt released Landing On A Hundred + B-Sides & Remixes, including new songs and a remix by Questlove.