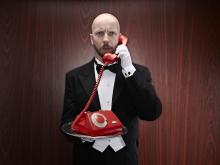 How many people wanted to be President of the United States when they were younger? I'd imagine quite a few. I certainly did, although I now realize that such an attempt would have resulted in something of a "birther" controversy.

As a kid, what made me want to be in such a position of authority wasn't necessarily the power and prestige of the president. It wasn't the White House, or Air Force One. It wasn't even having the authority to pardon a turkey once a year.

It was the red phone.
You know the one. Commissioner Gordon has one for Batman. President Merkin Muffley has one in Dr. Strangelove (I'm pretty sure it's red, even though it is shot in black and white). It was the phone you used to fix things. To call the superhero, or patch things up with an inebriated Soviet leader (what, you didn't play Cold War when you were growing up?) That red phone was your hot line to solving whatever problem you were confronted with.

Today, I still want that red phone.