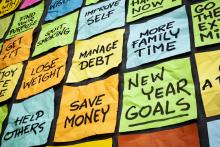 I had the idea for this blog post a couple weeks ago, but I thought it best to wait until around this time to release it. Just two weeks into the new year, this is usually the stage in which people are slowly becoming less committed to their resolutions.  
I know there is much disdain for the phrase "new year, new me." We all have family and friends who commit themselves to something on January 1st, whether it be to exercise more, eat healthier, become a better Christian, etc., and just days into the new year they have already failed to live out those commitments. The phrase probably should be "new year, same old me." This post is not intended to stroke the ego of our skeptics, rather, Lord willing, it will serve as encouragement to those who strive to better themselves.  
Although we struggle to stay faithful to our new found endeavors, thankfully we serve a God who is both patient and forgiving. Psalm 86:15 states, "But you, O Lord, are a God merciful and gracious, slow to anger and abounding in steadfast love and faithfulness."