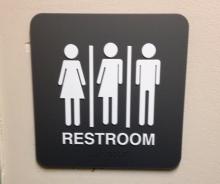 Christians — particularly those of the more conservative variety — often oppose accommodations for transgender persons. But these believers are having a very important conversation in the wrong direction. When trying to understand transgender issues, Christians should start with the personal, not political. When Christians begin by committing to political goals rather than educating themselves on the complicated, sensitive nuances of this matter, they often come off looking privileged, mean, or just flat-out clueless.
But transgender issues are bigger than so-called bathroom bills and similar legislation. Society is beginning to see these issues as personal matters that affect the real lives of real people with real hurts.
A few Christians out there are, thankfully, trying to think deeply about transgender people. Mark Yarhouse is a professor at Regent University School of Psychology and Counseling and author of Understanding Gender Dysphoria: Navigating Transgender Issues in a Changing Culture. Megan DeFranza is a visiting researcher at Boston University's School of Theology and author of Sex Difference in Christian Theology: Male, Female, and Intersex in the Image of God. Here we discuss the complexity of transgender issues often overlooked by Christians.