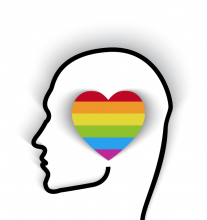 I am in over my heart on the LGBTQ situation and the church. I am also in over my head. As a Christian ethicist who believes Scripture is the measure for matters of faith, doctrine, and conduct, I have to say my head hurts to the point that it aches. It aches because I know that how evangelicals have taught me about loving LGBTQ Christians is myopic, and we need to think through many questions anew.
There are themes I am clear on: the place of love, the importance of family, the image of God, the mystery of bodies, the centrality of children. When it comes to faith, doctrine, and conduct, I plan to occupy myself for a long time on these themes to engage the questions that I am still unclear on. These include: What is the ideal marriage? Who is deemed family? What kind of sex reflects the character of God?
A few years ago, my then 7-year-old son was flipping through a children's Bible during church when he came to a picture of Jacob and Rachel. He looked up at me and challenged, "What's this? One wife? Where are the rest of them?"
Clearly the illustrator had an interpretive lens for choosing not to portray the messiness of the patriarch's family and children. Our world simplifies and sanitizes marriage and sex to the point that we evangelicals endanger the kind of complex thinking on family structures that Scripture itself narrates.
Fortunately I am in a church where questioning over your head is okay. Formed by people who first called themselves Mission Friends, the Evangelical Covenant Church (ECC) was birthed as a renewal movement in the late 1800s. We affirm our freedom in Christ to breathe life into our faith and ground our wisdom in the midst of complex ethical questions. The New Testament's word on freedom sets the tone. John's gospel tells us that if we continue going back to the word, we are his disciples. Those who receive Christ and have faith in his name are free to become children of God (John 1:12). Paul emphasizes that those who love Christ are new creations (2 Cor. 5:17). Galatians reminds us that freedom to live a new life is evidenced by such fruits as love, joy, peace, patience, kindness, goodness, faithfulness, gentleness, and self-control (Gal. 5:16-25). The letter to the Philippians promises that what God has begun will eventually be completed (Phil. 1:6).
In the midst of this celebrated freedom, the ECC acknowledges that it is a fragile gift. One of our forebears called this gift of freedom in Christ a "turtle without a shell" — how free it is to live unencumbered, yet how vulnerable to lose one's protective layer. While I don't want to say we Covenant evangelicals always use our freedom well, we do have historical precedent for thinking in morally complex ways.