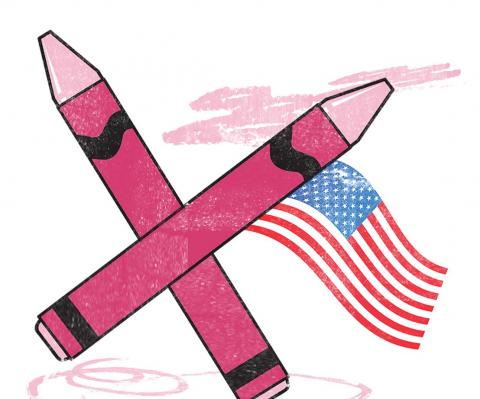 WHEN MARK TWAIN supposedly said "reports of my death have been greatly exaggerated," he didn't know he was establishing a tweet for the ages. (He didn't use Twitter. He was more of an Instagram guy.) It still stands as the best rejoinder to those who insist on seeing things for what they aren't.
Politically speaking, pundits and legislators alike were guilty of prematurely identifying the cold carcass of the tea party last spring when establishment Republicans defeated their right-wing rivals in several primaries. Then came Eric Cantor who, as a Jew, never really fit the profile of an evangelical Christian, the preferred qualification for tea party membership. But as majority leader of the House, he was powerful and occasionally clear-spoken, two other characteristics not often found in tea party favorites.
Nonetheless, Cantor went down to defeat at the hands of an underfunded college professor whose only apparent advantage was a more-evangelical hair style. But his secret weapon was his intolerance for undocumented workers, a favorite position for tea party Americans whose food is harvested almost exclusively by undocumented workers. But let's not quibble. People are entitled to their opinions, even if the food on their plates sits in mute repudiation of those beliefs. (Luke said "the stones will cry out," but I'd be happier if a bowl of vegetables would just stand up and say a few cryptic words before dessert.)
So now Eric Cantor's political career is over, and he moves on to the pitiable life of a wealthy lobbyist who, through no fault of his own, must replace a deep sense of social responsibility with a couple really nice cars. Better that than the consequences for Cantor's pollster, who predicted a 34 percent victory for his boss. ("Clean-up on aisle 12.")
Even in Mississippi, a mainstream Republican stronghold, Sen. Thad Cochran barely beat back a tea party challenger by just a few thousand votes, and most of those were from Democrats. (If they're stuck with continued obstructionism, they prefer it without a side of attitude.)
The point is, the tea party is like Lazarus, only better dressed and with less of an odor. And two months before the November election, the Republican Party is still struggling to understand why. That's where I come in. I'm here to help. I can explain what the tea party is and for which it stands, when it's not standing on John Boehner's freshly polished Italian loafers.
Using small words and speaking slowly for people in the back, I can tell you the tea party members simply want their country back. They want to recover the America they've lost, and return to those days when a box of crayons came with a Caucasian color. It was called "flesh," and it was nice and pink, you know, the color of Americans. No offense to our brown president—or, as the current Crayola palette might suggest, raw umber—but the best leaders have always been pink. The Founding Fathers, Abraham Lincoln, William Howard Taft? Pink, pink. pink.
(Do crayons come with the color "guy"? Just asking. Because if Hillary is elected, the tea party is going to miss that, too.)
Tea party Americans want their freedom back. They still have freedom of assembly (in ridiculous outfits), and freedom of speech (to say dumb and scary things). But they miss that precious freedom to go into a bakery and not see a wedding cake with two little plastic men on top.
And they also want to get back to the Constitution, although that part has always been a little unclear to me. Did they lose it somewhere? Did their copy fall out of the car on a family trip to a creationism theme park? If so, they can get another copy at the gift shop, which also carries postcards with drawings of people expressing their constitutional right to live with dinosaurs. Hey, it's science.
It's hard to know how all those grumpy tea partiers will affect the upcoming election. But they're sure as heck not going to vote for Obama. One six-year term is enough. It says so in the Constitution. Probably. 
Ed Spivey Jr. is art director of Sojourners.