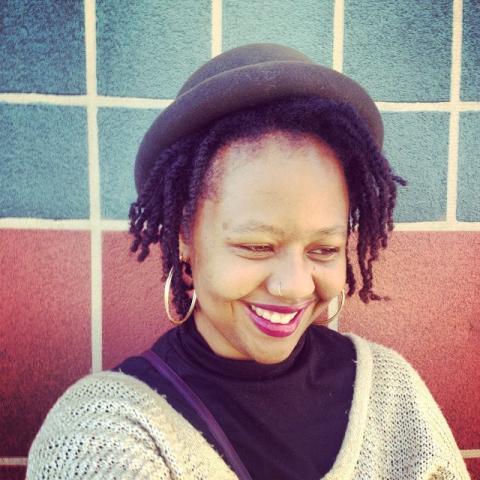 Taylor Nichole Johnson is an educator, activist, and urban gardener who uses food as a vessel for building wellness, resiliency, and healing in her community. She works as a nutrition educator at The Food Trust, a food access organization headquartered in Philadelphia. Follow her on Instagram (@sistahoftheyam) for plant-based food creations and reflections.
Posts By This Author
The Taste of Liberation
06-30-2016
In a world that tells black women their lives don't matter, cooking nutritious foods can be a quiet act of resistance.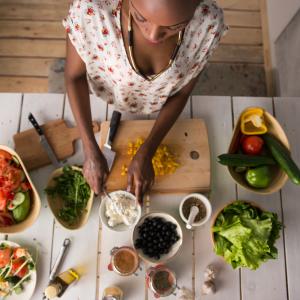 I TURN ON THE FAUCET and baptize the collards under ice-cold water for several seconds. I pick the leaves apart with my 12-year-old hands, casting the stems to the side.
A few feet away, my mother reheats her coffee in the microwave and then, between sips, crumbles cornbread and chicken liver into a large, sage-colored bowl. The familiar scent of sweet potato pies dances around the kitchen, along with the unmistakable laughter of my mother on the phone with one of her girlfriends.
Later, I'll wash and dry the countertop before anointing it with a blanket of white flour in preparation for my mother to make the rolls—my mother's grandmother's recipe and the most relished part of the Thanksgiving and Christmas meals. To this day, my mother is one of a few family members who has recorded the secret, something she has always carried with pride.
Some of my first memories about food are stories like this one, at home with my mother conjuring her magic in the kitchen, creating something wonderful out of simple ingredients, as is our legacy as black women. Her food was more than just food; it was nourishment.
Before seminary, before I found language for my womanist theology and politics, before Trayvon Martin and Renisha McBride ushered me into the movement, my hands were actively developing the muscle memory that would later fuel my healing. It took me 15 years to realize that during those times in our kitchen with my mother, I was developing practical tools for my own survival and healing: cutting, peeling, dicing, skinning—not just kitchen duties, but small acts of self-determination.
My addiction to 'non-food'
I began eating food in secret in high school, mindlessly devouring mini Snickers bars, ice cream, pizza rolls, and French fries in the parking lot at McDonald's as a way to comfort myself and to avoid what I was truly feeling. When I was stressed or feeling depressed about school or what was going on with my family, I would stuff my face with junk food, making sure to hide the wrappers beneath my mattress.
#SayHerName
08-06-2015
Honoring our sisters before they become a hashtag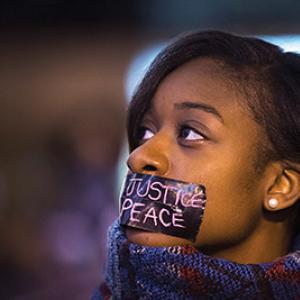 "BLACK WOMEN AND GIRLS are killed by the police, too." I can't tell you how many times I've received a blank stare when I made this statement, even in activist spaces. Occasionally I'll see a few affirmative nods, but overwhelmingly there is apathy. I leave with a sick feeling, wondering, "Where is the rage and protest for my sisters?" and "Who will fight for my life?"
In May, Black Lives Matter, Black Youth Project 100, and Ferguson Action came together for a national day of action for black women and girls. We wanted to shed light on the fact that black women and girls, in all our complexities, have been erased from the broader narrative of police terrorism and modern-day lynching in this country. Cities such as Oakland, Calif., New York, Philadelphia, Detroit, and Miami all participated in powerful acts of public resistance that involved reading the names of women who have been killed by police and using the hashtag #SayHerName as an awareness tool on social media.
Speaking our sisters', daughters', and mothers' names at a vigil on a day set aside to acknowledge our humanity is powerful, because it says: When the world has forgotten Mya, Aiyana, Tanisha, Rekia (and so many others), we will not forget.