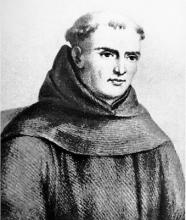 When Pope Francis unexpectedly announced last month that he would canonize the Rev. Junipero Serra during his visit to the U.S. in September, he thrilled the many fans of the legendary 18th-century Spanish Franciscan who spread the Catholic faith across what is now California.
But the pontiff who has decried the "ideological colonization" of the developing world by the secular West is now facing criticism from those who say Serra — called "the Columbus of California" — abused Native Americans and pressured them to convert, aiding in the devastation of the indigenous culture on behalf of the Spanish crown.
"Serra was no saint to us," Ron Andrade, executive director of the Los Angeles City/County Native American Indian Commission, told the Los Angeles Times.
Some of Serra's sharpest critics say he was part of an imperial conquest that beat and enslaved Native Americans, raped their women, and destroyed their culture by forcing them to abandon their traditional language, diet, dress and other customs and rites.
Add in the diseases introduced by these Old World invaders, and the original indigenous population of perhaps 300,000 was decimated by as much as 90 percent.
"If (Serra) is elevated to sainthood," Nicole Lim, the executive director of the California Indian Museum and Cultural Center in Santa Rosa, told The New York Times, "then (Serra) should be held responsible for the brutal and deadly treatment of native people."