Néstor Medina, a Pentecostal minister, teaches at Emmanuel College of Victoria University in the University of Toronto.
Posts By This Author
Embracing a Millennia-Old Cosmovision
12-01-2020
Indigenous communities honor relationships with all life. Will European descendants learn to do the same?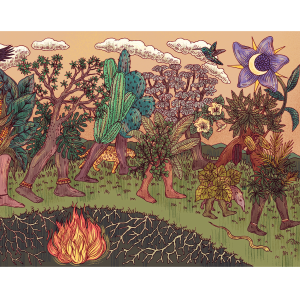 I GREW UP IN Guatemala, a country where the Indigenous people make up more than 50 percent of the population. I was told growing up that my ancestors were Europeans (Spaniards and Italians). Even though I was identified as ladino (not Indigenous) by Guatemalan official nomenclature, I was attracted to Mayan languages and communities (K'iche', Kaqchikel, and Q'eqchi', among others).
I felt a resonance with their orientation toward the earth, their deep sense of communal cohesion, and their mystical world of ancestral spirits. After doing some genealogical work, I learned that one of my grandfathers was Mayan.
I began to notice practices and attitudes in my family that I was certain were of Indigenous origins: my dad's idiosyncratic disregard for manufactured material goods in favor of plants; my uncle's pouring of alcohol on the floor before serving a drink; my mom's smoking of cigars as an invitation to the spirits and San Simón to be with us in our gatherings. All have an Indigenous provenance.
As I learned more, I recognized those familial practices as part of a millennia-old cosmovision and mindset, a way of viewing the cosmic order of a civilization through which Indigenous peoples organize everyday activities, even today. Each is a theo-ethical gesture for safeguarding their relationship with life itself, in all life's diversity.