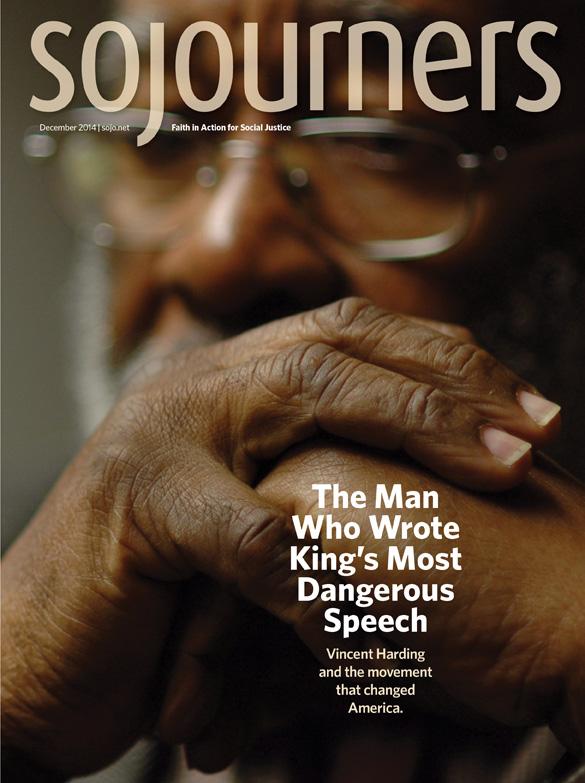 Magazine
Sojourners Magazine: December 2014
Subscribe to Sojourners for as little as $3.95!
In our Advent and Christmas stories, angels are messengers of invitation and freedom, pointing us toward liberation and life and off the path of destruction.
In this issue, we look at the life of another powerful messenger, Vincent Harding. He and his wife Rosemarie first came to Sojourners in the 1980s, offering us wisdom drawn from their mentors Howard and Sue Bailey Thurman, Ella Baker, Fannie Lou Hamer, and Martin Luther King Jr. In 1998, Vincent delivered Sojourners' first Spirituality Lecture at Howard University's Rankin Chapel where Howard Thurman once served as dean.
Vincent passed away in May, but he lived long enough to comment powerfully on the election of the first African-American president and to prophetically call him out when he strayed from the dream of "a more perfect union." Joanna Shenk, a Mennonite pastor whom Vincent counted as a friend, writes on the Hardings' life and witness.
Andrew Dunn-Bauman offers a transformative story from Oak Creek, Wisc., where Sikhs and a former racist skinhead have come together in a peacemaking project in the aftermath of the 2012 temple massacre. And former Sojourners Culture Watch editor Molly Marsh returns to our pages with analysis of the Ebola crisis in Liberia—and a review of a new book on smart giving.
Incarnation means that it's on us now to be the hands and feet and voices of Christ, just as Vincent and Rosemarie were. "Surrounded as we are by a host of ancestors who have gone before us—including our ancestor Jesus," Vincent wrote, "we will continue to sing. We will continue to build. ... For we believe with Langston [Hughes] that we were not meant to be broken-winged birds ... we were meant to rise up on wings like eagles. ... Let's fly, children. Let's fly!"