MANY CAREER COACHES and job market experts offer this advice: Don't use online job boards as your main job search strategy. Networking and finding supportive organizations often are the game-changers for the long-term unemployed. Here are a few suggestions and resources:
The 300 List
In early 2014, during a congressional squabble over extending unemployment benefits, the White House started a program for companies to voluntarily hire the long-term unemployed. About 300 companies signed on. Visit whitehouse.gov, and enter "For Recruiting and Hiring the Long-Term Unemployed" in the search box.
Joseph's People
This nonprofit ecumenical group with 14 chapters throughout Pennsylvania offers seminars and resources to assist the unemployed. Services are free. josephspeople.org
Platform to Employment
This successful public-private partnership started in Connecticut and has expanded to 10 major cities, including Chicago, Detroit, and San Francisco. The organization places workers into jobs and subsidizes their wages for eight weeks. After that trial period, the company has the option to hire the worker full time. platformtoemployment.com
Political Representatives
They are connected people. Send them a résumé and ask if they can help. Also, encourage them to provide funding for re-employment programs. To find your representatives and their contact information, go to whoismyrepresentative.com for national representatives; openstates.org for state representatives.
Retaining Programs
The U.S. government funds some worker retraining programs for unemployed people who qualify. Funding is limited, though, and money is directed toward retraining in specific professions. Contact your local employment agency about funding and availability.
Spiritual Directors
Many now counsel the long-term unemployed and view the process of finding a job as a spiritual journey. Contact your local church or religious denomination office or visit sdiworld.org for a listing of spiritual directors who work with long-term unemployed clients.
—John A. Zukowski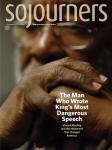 This appears in the December 2014 issue of Sojourners
Got something to say about what you're reading? We value your feedback!