I loved the way Bob Smietana's "Agents of Grit and Grace" dovetailed with Danny Duncan Collum's "A Teachable Moment" (September-October 2014). In reading Smietana's story about the teachers in the Memphis Teacher Residency who are working so hard to serve the children of Memphis, I was concerned that MTR leaders seemed to accept test scores as a measure of school quality. A few pages later, Collum described the dangers of the emerging education-industrial complex. Test scores are one of the ways that this complex manipulates our society into destroying our public schools.
In reality, test scores are more closely related to parent income levels than to any other factor. Our children are suffering because our public schools are underfunded. The 99 percent of us who are not wealthy do not have sufficient funds to support the education of our children. We must improve school funding by requiring corporations and wealthy individuals to pay their fair share. The uber-wealthy have avoided this responsibility by having the media focus on test scores rather than the needs of the children. This ploy feeds and supports the education-industrial complex.
Anita Johnson
Walnut Creek, California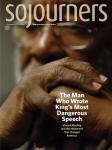 This appears in the December 2014 issue of Sojourners
Got something to say about what you're reading? We value your feedback!