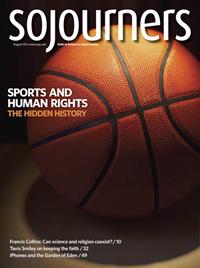 Magazine
Sojourners Magazine: August 2009
Subscribe to Sojourners for as little as $3.95!
The sports world has its share of controversies, outsized personalities, and high drama, but it's also full of athletes who are activists against poverty, genocide, war, racism, and sexism. As sports commentator Dave Zirin points out in "Champions of Justice," athletes from Muhammad Ali to Billie Jean King to Joey Cheek have called attention to social injustices and human rights issues throughout their careers.
"Empowered by God," by Mimi Haddad, looks at a different aspect of our Christian story -- the powerful work and voices of women throughout our history. As Haddad writes, the ministry of the apostles and early evangelical women challenged cultural ideas and taboos about the "proper" role of women. These women, like many "jocks for justice," remind us that our service to God is not based on gender, class, race, or ethnicity, but on our hearts, minds, souls -- and actions.