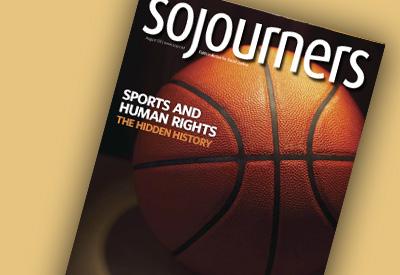 Every weekday evening, viewers across the nation tune in to their local public television station to watch Tavis Smiley interview guests from every walk of life and degree of fame on his PBS show, Tavis Smiley. Known for his acumen and grace, Smiley draws audiences with probing questions, real dialogue, and the opportunity to learn something about a person or issue they had never considered.
Smiley began his career in 1996 as a political commentator on the Tom Joyner Morning Show. In 2002, Smiley broke boundaries as one of the few non-white voices on NPR with The Tavis Smiley Show. He left in 2004, claiming that NPR was not diversifying quickly enough, and began his public television show. His radio show continues as well, now distributed by Public Radio International. A longtime advocate for uplifting marginalized voices, Smiley sat down in April with Sojourners editor-in-chief Jim Wallis to discuss how to speak to the soul of the nation every night while keeping the faith.
Jim Wallis: Media are often focused on being entertaining and controversial, and getting ratings. But you provide a different perspective. What is your goal?
Tavis Smiley: My role on television is to help people re-examine the assumptions they hold. Where the issue of poverty is concerned, there are so many assumptions we all bring to the table. One, that it doesn't exist in our country. Two, that we can't cut it in half in 10 years.
So my job is to lovingly help people re-examine the assumptions they hold, to help them expand their inventory of ideas, and to use the platforms that I have—public radio and public TV—to introduce Americans to each other, to profile people who they otherwise might not see if they don't see them on my show, to ask questions other folk won't ask, and to raise issues other folk won't raise. Public radio and public TV play a huge role in allowing me to do that because the format gives me the space to do that.
You cover issues that impact the black community. But your show is not just about the black community—it's about the soul of a nation. You have a way of doing both at the same time. How do you work it out so that no one can "ghettoize" your show?
Well, some have tried. I regard Martin Luther King as an example. You will never hear me get up and speak without in some way, shape, or form referencing Dr. King, because I believe Dr. King is the greatest American we have ever produced. I could argue for Lincoln, I could argue for FDR, but for my money, King is the greatest American. His only weapon was love. He transformed a nation, he transformed a world with one weapon—love.
King is the quintessential example of everything I could ever want to be in my lifetime. King came out of a black church tradition, and he spoke on behalf of black people, but his message resonates with anybody concerned about those who are disenfranchised economically, politically, socially, and culturally. I would never want to compare myself with King. I know I can never be King in 10 lifetimes. But in the space that God has allowed me to occupy, this media space, I try to put a "King-ian" formulation, a "King-ian" twist on the work that I get to do.
Also, my mom had me as a child when she was 16 or 17, and has been there for me my entire life. My mother only has a high school education. So with every guest I talk to, my mother is always my audience. I know that if I can get my mother to understand this answer, this question, then I know that everybody can get it.
Why do you always end your show with the phrase "keep the faith," and what do you mean by that?
When I first started doing television, I wanted to have a signature sign-off. My mom watches me every night—for her to see the success that God has blessed me with is a great joy of my life. I would have loved to have had the opportunity all these years to say, "Thanks for watching, and goodnight, Mom," but that was already taken by Charles Grodin who, at the end of his show, always turned to the camera and said that phrase.
The next best thing to honoring my mother is to honor what my mother put in me, which is an abiding faith. My favorite Bible verse is "Faith is the substance of things hoped for, the evidence of things not seen."
Hebrews.
That's right. So every night when I say, "keep the faith," I'm not trying to sermonize or proselytize, but I do believe there's a difference between optimism and hope. Optimism suggests there's a particular set of facts, circumstances, or conditions that you can look at, feel, or touch that gives you reason to believe that things will get better. That's optimism. But hope, faith—that's something different. It's the evidence of things not seen. So when I close my show and you go to bed at night, the last thing that I want to leave is a positive, encouraging word with you: Whatever happened in your life today, I want you to keep the faith.
I have a paraphrase of that text: Hope means believing in spite of the evidence and then watching the evidence change.
I like that!
How does this faith your mother put in you live itself out now? How do you keep the faith?
For me it's about remaining prayerful. The higher you climb and the more you accomplish, the more you have to stay on your knees, the more humble you want to remain, and the more committed you want to remain. I've seen way too many people who start out with a faith, but the world has a way of shaking that faith loose, some because of the trouble and the travail that they encounter, others because of the success. As we know, it's easier to get a camel through the eye of a needle than a rich man to heaven. The more successful we become, the greater the challenges that are in front of you to remain humble and to remain a person of faith—and to not believe that you did it by yourself.
For me, my practice is to stay prayerful. Throughout the course of my day, I don't have the occasion five, six times a day to get on my knees and take 30 minutes for prayer time, but I'm constantly saying my prayers. I can be in the back of my car, and you think I'm just sitting there looking out the window, but I'm praying about the day and asking for God's blessing for what I'm about to do. I'm in planes and people think I'm just sitting there, but I'm constantly in my own private prayer session. That's how I move and operate.
What is your sense of Barack Obama's presidency so far?
I think he's off to a really great start. Yet I understand that great presidents aren't born, great presidents are made. I believe Barack Obama can be a great president, but only if we make him a great president. We have to push him into his greatness. Lincoln is not a great president if there is no Frederick Douglass. Franklin Delano Roosevelt isn't a great president if there isn't first Eleanor Roosevelt and a bunch of other folk pushing him. Lyndon B. Johnson is a great president because Dr. King and the movement were pushing this guy.
Great presidents have to plant themselves in some fertile territory. Lincoln had the Civil War; FDR had the Great Depression; LBJ had the civil rights movement. You plant yourself in the fertile ground so that a difficult economy, a difficult world order, are not things you run away from, but you plant yourself in this fertile territory and you grow in stature to become a great president.
The ground is fertile for Obama to become a great president, but we've got to plant him in it, we've got to water him, we've got to help him grow, we've got to pray for God to give the increase, but all of that starts with us holding him accountable. This book I have out called Accountable lays out the 242 promises Obama made on the major issues during his campaign. You don't need me or the news media telling you about how he's doing. If you get this book and follow along, we can hold him accountable to an agenda that will lift up everybody in America. It may be too much to ask for him, but I'm hoping and praying that he will come around to this poverty question, to a "King-ian" understanding of it, and recognize that we're going to have to focus on the poor.