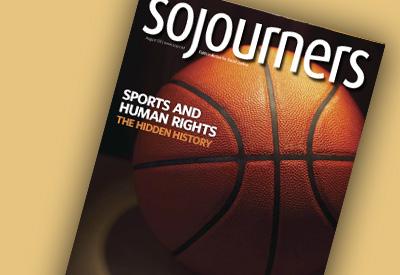 During the 1960s, sports sociologist Harry Edwards helped found the Olympic Project for Human Rights which called for, among other things, a boycott of the 1968 Mexico City Olympics to protest racism in sports and society. The boycott was called off, but athletes were still encouraged to protest. During their time on the medal stand, African-American sprinters John Carlos and Tommie Smith raised their arms in a black-power salute. Edwards, author of Revolt of the Black Athlete and Sociology of Sport, talked with Dave Zirin (www.edgeofsports.com) about the impact of that action, as well as what sports tells us about U.S. society.
Dave Zirin: I was surprised at the level of fanfare last year about the anniversary of the human rights protests at the 1968 Olympics. Why do you think it resonates so many decades later?
Harry Edwards: One, you had a group of young men—I was 24, I think John Carlos was 23, Tommie Smith was 24, Lee Evans was 21—and we determined that we could impact the course of events through American society, maybe throughout the world, through athletics, something that many people considered the toy department of human affairs, especially with the burgeoning civil rights movement going on, the anti-war movement, the student movement, and so forth.
The second part was that the impact of the movement culminating in a demonstration in Mexico City was part of a more general effort during that period that involved everybody from Muhammad Ali, Jim Brown, Bill Russell, Curt Flood, Kareem Abdul-Jabbar—you had a whole generation of people involved in what came to be known as the revolt of the black athlete. So it was an iconic, emblematic commemoration of an era, and I think Carlos and Smith epitomized the basic questions we raised at that time.
Are there takeaway lessons for activists and athletes today?
Absolutely. First, you have to do your homework. We knew we would not have any unified, uniform boycott of the games. You had people like Mel Pender and Charlie Greene who were in the military, whose duty it was to run. You had people from the African-American schools, the historically black schools, Ralph Boston and others whose coaches and administrators let them know that if they were identified with the movement not only would they be out of athletics, they'd be out of school. Only 26 percent of women at the schools had athletic scholarships, so we knew we couldn't get them involved. At the end of the day, we had to do our homework.
The second point is that we raised fundamental questions. If we cannot be head coach, how are we ever going to be head of state? How are we ever going to be governor? We can't live in a frat house because of anti-Negro rules, which is approved housing on many campuses, but if we're segregated then, how are we ever going to live in a state house? Why should we play where we can't work? If [athletic directors] never interviewed a black for head coach, what does that say about their perspective on us as athletes—bringing at that time hundreds of thousands of dollars into the schools?
You want to do your homework and raise fundamental questions within the context of the American constitutional structure on issues of human rights, which is why the effort was called the Olympic Project for Human Rights—not civil rights, but for human rights.
We were influenced by Malcolm X's philosophical perspectives—of a shift from civil rights to human rights—and I think the point he made was eventually taken up by Dr. Martin Luther King, that is, to the extent that the government is complicit in enforcing rules that discriminate, segregate, and so forth, from redlining of neighborhoods and FHA policies to discriminatory actions in government itself as far as jobs are concerned, in civil service, and failure to enforce the Constitution. To go to that government seeking redress at that time was a very, very futile act. You had to move beyond that. The Olympic forum was the greatest international political forum outside of the United Nations, which we had no hope of getting to, but we certainly wanted to raise that issue.
You have referred to African-American athletes—particularly young African-American athletes—as being the canaries in the coal mine. What do you mean by that?
African-American athletes are the major segment of African-American youth culture, particularly when it comes to numbers; it is a spotlight on our state. When we see something that is drastically changed in the lives, outcomes, and circumstances of African-American athletes, we understand that there's something desperately wrong or desperately different going on within the African-American youth culture, which is to say African-American society and American society more generally.
To give you an example: The last five years, from 2003 to 2008, of the Iraq and Afghanistan wars we see that there are just under 5,000 Americans of all races and genders who have died on the battlefield. But if you look at Centers for Disease Control statistics, you find that more than 27,000 African-American men, largely from our urban centers, have died by gunfire alone over that period of time— if you're a black male, you have five times the chance of dying in one of our urban centers than you would have of dying on the streets of Baghdad or Kabul. That has impacted so many different areas of African-American life. The quality of life has deteriorated in many instances. We have an undeclared war going on in our urban centers, a powder keg that we are sitting on to this day. That has impacted African-American athletic opportunities. You could look back to a time when, for example, in the heavyweight boxing division you had Ali, Joe Frazier, George Foreman, Ken Norton, Eddie Machen, Sonny Liston, Floyd Patterson, Jimmy Young, Jimmy Ellis, Ernie Terrell, Cleveland "Big Cat" Williams, and Larry Holmes. Who do you have today? You have Chris Byrd, James Toney, Shannon Briggs, none of whom anybody would recognize in a crowd of four people.
Where are those athletes? The gyms have closed. The institutional structure that supported boxing in the African-American community has deteriorated. You have three out of five young African-American men in most of our urban centers to some degree under the control of the courts. They're either under indictment or under arrest, incarcerated, on probation, on parole. We're jailing, burying, and disqualifying our athletes under "no-pass, no-play" rules and Proposition 48. What's happening with the educational institutions? What's happening with the social institutions? The athlete is truly the canary in the mine shaft that tells us that something is terribly wrong in the youth culture of black America. That's an American problem. That's not just a black problem.